Joint Artificial Intelligence Center (JAIC) Test and Evaluation (T&E) Blanket Purchase Agreement (BPA)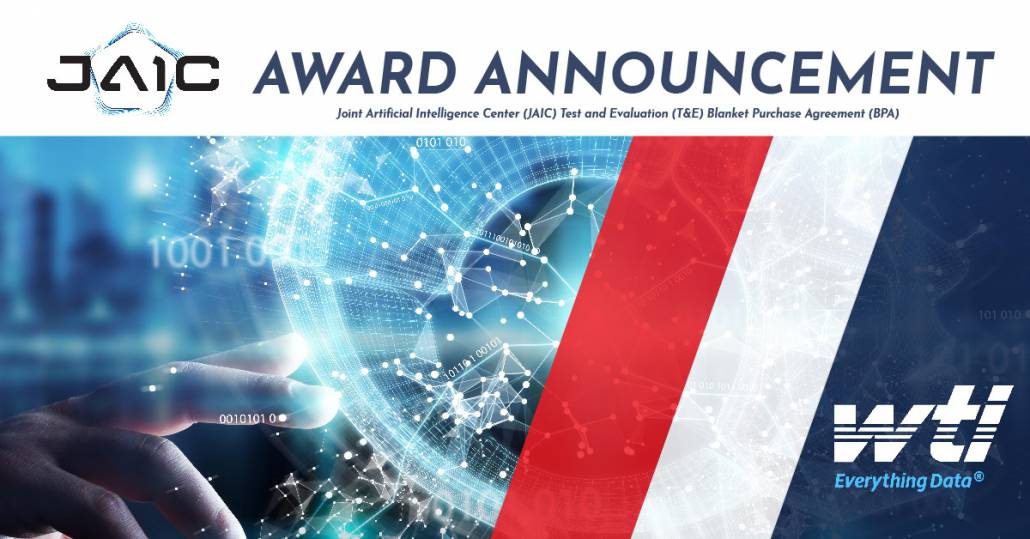 Webworld Technologies, Inc. dba WTI has recently been awarded a prime position on the Joint Artificial Intelligence Center (JAIC) Test and Evaluation (T&E) Blanket Purchase Agreement (BPA).
The purpose of this BPA is to provide T&E services to the JAIC, the Department of Defense, and the entire U.S. Government. This BPA is open for ordering to the U.S. Government in support of Artificial Intelligence (AI) T&E.
The Department of Defense (DoD) JAIC was established in 2018 to be the focal point of the DoD Artificial Intelligence (AI) Strategy to accelerate scaling AI and its impact across the Department. Working closely with the Services, Combatant Commands, and other Components, JAIC identifies appropriate use cases for AI across DoD, rapidly pilots solutions, and scales impact across its enterprise. The mission of the JAIC, as specified in the DoD AI Strategy, is "to accelerate the delivery of AI-enabled capabilities, scale the Department-wide impact of AI, and synchronize DoD AI activities to expand Joint Force advantages." Through this BPA, the Government can acquire new and innovative AI test tools, capabilities, and services that can enable the DoD to rapidly test and validate AI capabilities developed for DoD operations and missions.
This JAIC T&E vehicle is a five-year BPA that will enable the acquisition, development, and integration of commercial AI tools and services in support of the DoD's and the U.S. Government's AI test and evaluation objectives. The areas of focus include emerging AI technologies such as Machine Learning, Deep Learning, and Neural Networks. Task orders will focus on the following task areas:
Task 1: AI T&E Solutions
Task 2: T&E Independent Verification and Validation (IV&V) Services
Task 3: Other Technologies
Task 4: Alignment/Integration with the Joint Common Foundation (JCF)
WTI is proud to support this full and open awarded contract vehicle. Our President, Tanice "TK" Gonsalves, commented that "it is our profound privilege to support JAIC and other Agency missions during a time when the present and future worldwide importance of AI in functional improvement and advancement has become increasingly evident." WTI has developed strong past performance and capabilities in Artificial Intelligence over the past four (4) years, and with this vehicle we will continue to expand and provide the solutions, capabilities, services, tools, people, and AI mindset needed to meet various mission objectives. WTI's team of professional
subject matter experts are ready, eager, and mission-focused to make this another successful BPA that we manage efficiently and effectively by providing optimal results for our clients.
For more information, email [email protected]
https://www.wti-solutions.com/wp-content/uploads/2022/06/WTI_JAIC_TE_LinkedIn-01-1.jpg
628
1200
Brent Reitze
https://www.wti-solutions.com/wp-content/uploads/2020/03/WTI_2019-Logo_Registered_MM_02-copy.png
Brent Reitze
2022-06-02 19:52:44
2022-06-02 20:02:21
Joint Artificial Intelligence Center (JAIC) Test and Evaluation (T&E) Blanket Purchase Agreement (BPA)