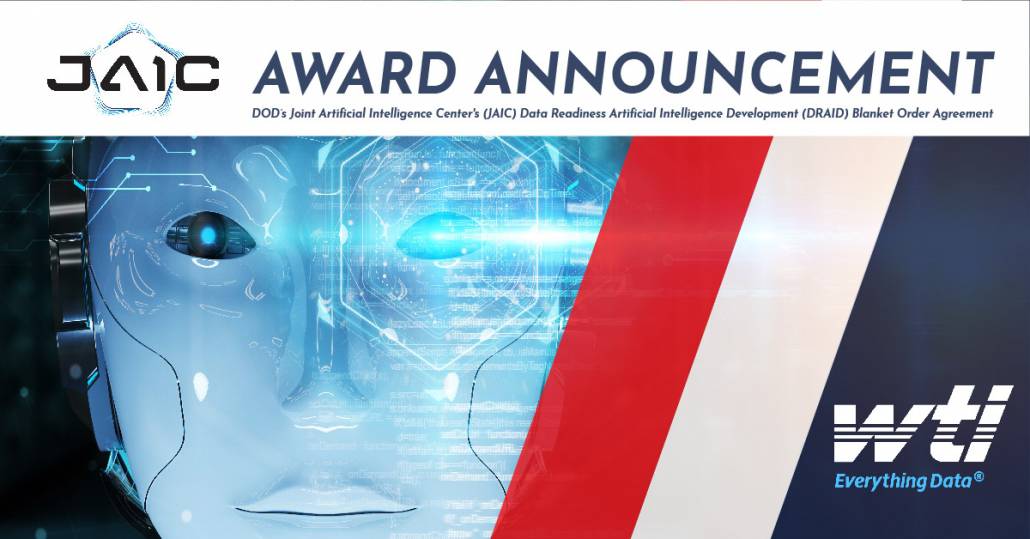 Webworld Technologies, Inc. dba WTI is elated to announce another award with Joint Artificial Intelligence Center (JAIC). Our respect and appreciation for JAIC's mission is extremely high. WTI is pleased to announce that we have recently been awarded a prime position on the awarded Department of Defense (DOD) Joint Artificial Intelligence Center (JAIC) Data Readiness for Artificial Intelligence Development (DRAID) Services Basic Ordering Agreement (BOA) to accelerate AI adoption across the Defense Department. The five-year, multi-award contract has a $241M ceiling.
The Department of Defense (DoD) Joint Artificial Intelligence Center (JAIC) was established in 2018 to be the focal point of the DoD Artificial Intelligence (AI) Strategy to accelerate scaling AI and its impact across the Department. Working closely with the Services, Combatant Commands, and other Components, JAIC helps identify appropriate use cases for AI across DoD, develops capabilities, and scales impact across our enterprise with the goal of transforming the DoD through AI.
Capabilities and services to be procured under this BOA include:
· Project and Program Management
· Data Science
· Data Engineering
· Data Architecture
· Data Acquisition and Curation
· Data Quality and Analysis
· Synthetic Data Generation and Data Anonymization
· Software Development, Modification, and Configuration
· Enterprise Information Management and Governance
· Cloud Integration and Alignment
Team WTI is proud to be a part of some of the world's most important developments. The future of the world is being shaped by Artificial Intelligence (AI). The success and performance potential of enterprises and government agencies, even of countries, now depends on their AI capabilities. Whether for automation or prediction, Machine Learning (ML), a form of AI, is creating the great transformation. And ML needs massive amounts of data which makes Big Data essential for modern enterprises. Extremely large datasets of structured and unstructured data, such as the ones that come from Big Data, are needed to train ML algorithms. Big Data is at the heart of the ML/AI revolution.
For more information, email [email protected]
https://www.wti-solutions.com/wp-content/uploads/2023/10/WTI_Finalized-Logo3-2-e1696334061261.png
0
0
Brent Reitze
https://www.wti-solutions.com/wp-content/uploads/2023/10/WTI_Finalized-Logo3-2-e1696334061261.png
Brent Reitze
2022-06-10 12:37:29
2022-09-07 15:17:06
Department of Defense (DOD) Joint Artificial Intelligence Center (JAIC) Data Readiness for Artificial Intelligence Development (DRAID) Contract